Novo Legal Attorney Luis Cortes-Romero Reflects on his 2020 U.S. Supreme Court DACA Victory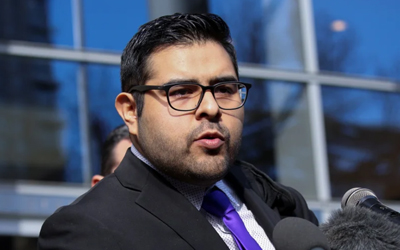 On the podcast Amicus, Dahlia Lithwick spoke with Luis Cortes-Romero about his work on the 2020 U.S. Supreme Court ruling that upheld the Deferred Action for Childhood Arrivals program. The decision had particular resonance for Luis, who is a DACA recipient himself.
In the interview, Luis shares his perspective and experience as an undocumented student, as a DACA recipient, and as an attorney who has argued in front of the Supreme Court – and won.
"I was born in Mexico, and I was brought to the United States when I was about one year old. Because I was without status, I met with all kinds of barriers – I couldn't get a driver's license, or financial aid for college – not to mention the fear of not knowing how my future would unfold.
"Without financial aid, my family and I had to pay tuition for law school 100% out of pocket, and in my first year I learned of a fellow undocumented student who had been unable to practice law because of his status. I wanted to go home.
"Then, in the summer of 2012, the DACA program was announced. I was very cautious about what it was, because I would need to present myself at a federal ICE office to apply. But I overcame my fears, I applied, gave the ICE agents all my information, and a few months later I was approved. And it changed my life forever."
Luis talks about the U.S. Supreme Court case:
"This is my favorite story. It was February 2017, President Trump had just been inaugurated, and we were all nervous about what that was going to mean on all fronts, but particularly the immigrant front. Soon, a young man named Daniel Ramirez was picked up by ICE, and our office got a call from Daniel's brother asking for help. Daniel was a fully approved DACA recipient – and now he was sitting in a detention center in Tacoma, Washington.
"We got to work, and soon I got a call from Mark Rosenbaum, an attorney with the ACLU for 40 years. He says, "I heard about your client Daniel's case, and I want to help if it's possible."
"We met with Daniel at the detention center, and brought more attorneys in on the case. We meet Ethan Dettmer, a partner at Gibson Dunn, and then UC Berkeley School of Law dean Erwin Chemerinsky. Then Mark called professor Leah Litman, and then he called professor Laurence Tribe. We were trying to all figure this out together, and then things were moving really fast.
"When presenting our case, we wanted to make sure we filed a lawsuit that told the stories of not just Daniel, but all DACA recipients. And we knew we'd take it to the Supreme Court if that's what we needed to do.
"I would be lying if I said that I wasn't scared at first, walking into the United States Supreme Court for the first time. But what it comes down to, is taking the right action even though you might be scared. I thought about all the fellow immigrants like me who had risked everything to get DACA protection, and I thought about my unique privilege as an immigration attorney to make a difference for all of us. When I was going through law school, I didn't know any other DACA recipients. I didn't know any other undocumented lawyers. And I feel so lucky to get to do this work."
The full Amicus interview is available here. If you—or someone you know—need help with your immigration status, contact the team at Novo Legal for a consultation.
Interested in more articles about DACA?
August 8, 2022: Luis Cortes-Romero Reflects on 10 Years of DACA
January 7, 2021: DACA Restoration and What It Means For Applicants
August 11, 2020: 2020 Supreme Court Decision on DACA
December 4, 2020: Changes to Immigration Under New Biden Administration